The Role of Learning and Development in the Employee Experience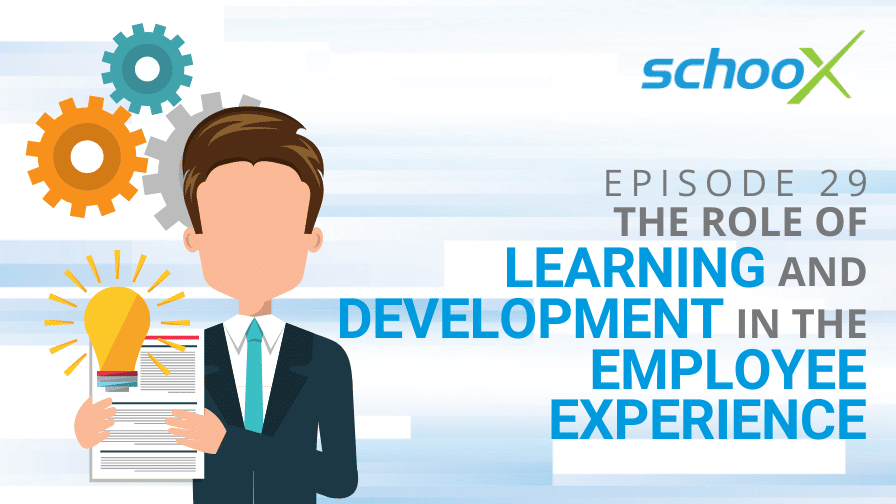 What do the words "employee experience" mean to you?
Every employee, manager, or business owner likely has a different definition. It can relate to day-to-day experiences, recruitment, training and development, retention, and everything in between.
It relates to every touchpoint a business has with an employee, from when they first join to whenever they decide to move on. The experience they have in between those two points and even beyond carries an impact across the company. Even once they leave, their experience can still create ripples for a business, for example, through Glassdoor reviews.
That's why it's so important to think about employee experience and employee culture, as both those things naturally go hand in hand.
In this episode of The Learning Xchange, Schoox's Matthew Brown (VP of Learning and Brand Success) is joined by his colleague Karen Clem for a discussion on employee experience and the role of training in it.
Listen to the podcast episode below to learn more or keep reading.
How the employee experience and customer experience are linked
What some organizations overlook is the link between employee and customer experience.
If you have happy employees, this improves the customer experience they give which can help to boost company profits.
Satisfied employees will be happier, more enthusiastic to help, and highly productive. Those aren't just nice things to have in a business. They're things that any business needs to have in order to grow.
Why? Your happy employees will provide a much better customer experience. Happy customers will then leave positive reviews and become returning customers if they receive a great experience.
That's why it pays on so many levels to take care of the people first in any organization.
The role of learning and development in the employee experience
How can learning and development improve the employee experience? It's all about how you implement it.
A common mistake that learning teams fall prey to is a kind of firefighting mode where the team sets out to do very aspirational things, but then there's a setback in the business. In this firefighting mode, it's easy to lose the connection to the employee experience that an organization needs.
Where do learning and development teams fit into this? The main elements of the employee experience that L&D teams impact are the retention, professional development, and culture of an organization.
That's why it's crucial that learning and talent development initiatives bring solutions that make sense and can really elevate talent to grow people's careers. That could involve leadership development, management, personal development, or even career pathing.
The problem with mandated-only training
Most companies will have some mandated training, perhaps once a year. However, if you want learning and development to become ingrained in company culture, you need to move beyond those required sessions.
If your employees only associate training with being forced to go there, this can affect their ability to retain the information, become engaged, and grow within the organization. It's so important to create a learning environment that encourages people show up willing, engaged, and eager to learn.
Training sessions like sexual harassment training or other compliance programs may be essential. But we need to create a learning culture where employees want to seek their own opportunities. As learning and development professionals, it's our job to create engaging learning solutions.
This, in turn, creates a very engaged workforce where people want to stay and develop in their roles.
Why an event-based mentality is the wrong approach to learning
The best type of learning is continuous learning, but many organizations approach learning with an event-based mentality. Rather than being an annual event, you should try to make learning ingrained in the company culture.
This event-based mentality comes from the tendency for business leaders to compartmentalize parts of their business. They'll put elements of the employee experience into different boxes and have training sessions tied to those boxes – for example, a training session on diversity or customer experience.
The problem is that the employee experience is hard to compartmentalize and measure. Every second of a workday has the potential to alter the employee experience. Every day, interaction, job, or project can change it. There are naturally highs and lows throughout an employee's experience.
While we can't build a training course for every single time an experience is altered, what we can do is get used to paying attention to those peaks and valleys. Figure out what's going really well and what's going wrong, and get ready to address those issues when they come up.
How L&D professionals can impact the employee experience
It's all about intent and commitment. You can have great intent, but unless there's real commitment behind it from the leaders, it can fall flat. Making sure everyone has the right commitment level will ensure that the employees have the right experience.
It has to be more than an idea. It's about putting that into action and helping people connect to the same intent.
Another thing organizations can do is look for opportunities to change the engagement with learning. Look for a way to help shift the mindset from have-to-do to want-to-do instead. This isn't an easy thing to do and will take some time, but overall, it's about having trust in your employees and creating a culture where people feel trusted.
It's also about helping employees feel comfortable expressing their opinions on what type of training is working and what isn't. Sometimes leaders can remain stuck in their own heads with ideas about what type of training to implement. We have to make sure those training experiences are well-suited to the employees who receive them.
Another thing to bear in mind is the overall discussion about training. For companies who rely on annual training sessions and wonder why they aren't solving the problems they set out to, perhaps it's because the subjects aren't being talked about enough.
Look for ways to keep the conversation going throughout the year. Don't just leave those lessons behind in the training room. Look for ways to add more learning throughout an employee's entire experience with your organization.
Remember that learning is not an event. It's a process. It needs to be ingrained in the day-to-day experience of everyone in the organization for maximum effect. By doing so, you will lay a foundation for employees to have a great experience in the workplace.
The latest L&D trends and best practices