Global Businesses: 4 Learning Solution Must-Haves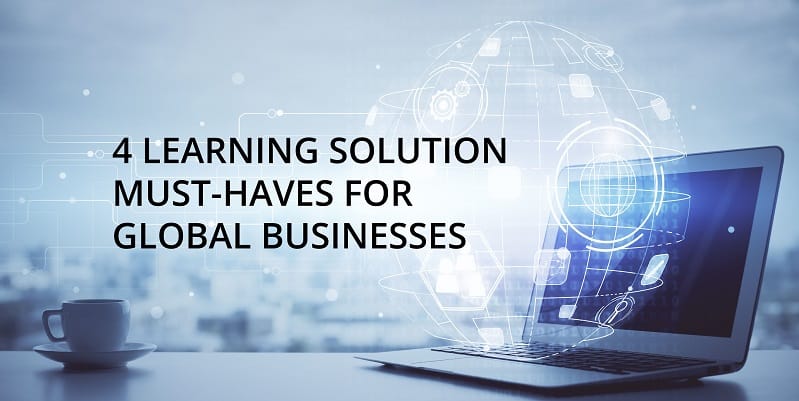 If you were one of many global businesses responsible for rolling out a learning solution to anywhere from 50 to 5,000 locations or more, where would you begin?
What kind of system would you need to develop each frontline employee according to their individual skills, knowledge, and experience to help them continuously grow? How would you keep them engaged, informed, and compliant?
This can pose a challenge for learning and development teams at large, global businesses. Especially when they're responsible for leading and managing such an undertaking.
Global businesses have complex structures that require a learning solution that is equipped to handle their unique set of needs. For example, communicating information to various levels. They may need to reach a single employee, a specific business unit, or every employee in every division. Or, they may want to deliver personalized training to both frontline and other employees, across multiple regions and cultures.
If you are in the market for a learning solution and you have a complex organizational structure with specific talent development needs, be on the lookout for these must-haves.
Global businesses with complex organizational structures should look for a learning solution that:
1. Simplifies global learning initiatives
First, the platform should be easy to access across the entire company and on all devices. A good question to ask a learning solution provider is how much down time their cloud-based system experiences annually. Additionally, ask if their solution is optimized for PCs, cell phones, and tablets.
Second, the platform should be able to translate learning content and the user interface text to many languages. This enables employees to choose their default language.
Geotargeting comes into play here as well. By having a learning solution with geotargeting capabilities, the system can prompt the employee to choose the language depending on where they're located. Or, it can automatically reset to the default language if needed.
Finally, the system should allow you to measure learning adoption rates. It should also enable you to create reports for specific regions and geographies throughout your company.
Consider an L&D leader of a large restaurant franchise. To determine the completion rates for one of their key training courses on salad prepping, they run a report. Upon review, they realize that the rates vary greatly across geographic locations.
By leveraging a reporting tool that drills down to various levels, including by region, they can immediately address the issue. For example, they can leverage the system's built-in communication tools to share information. Or, they can employ gaming elements to build friendly competition and boost completion rates.
2. Helps drive engagement across the entire workforce
Global organizations have many factors to consider when it comes to employee engagement beyond the number of employees. They also have to take into account what motivates employees across different regions and cultures. Therefore, global organizations need learning solutions with a robust set of tools that can help them drive engagement. For example:
Surveys
Communication and feedback mechanisms (groups, one-to-one, or one-to-many messaging)
Progress tracking in order to regularly review and iterate programs
Learning tailored by role or need
Relevant, interactive content

3. Eases companywide change
From shifting to virtual and blended learning due to the pandemic, to implementing new policies, procedures, or programs, learning solutions can help large complex organizations manage large-scale change more easily.
Continuing with the previous example, consider how COVID-19 affected the way large restaurant franchises conducted franchisee training. Typically, franchisees would visit corporate headquarters for training. The pandemic forced restaurants to change that. Learning solutions equipped to handle that change were able to shine during the pandemic. Why? Because they helped many companies transition to a virtual learning environment.
Large businesses were able to take things that could be done online and create virtual training, both instructor-led and self-paced. And for those unable to attend, employers simply enrolled them in the recorded on-demand training instead.
Mobile optimization was also key during the pandemic. Companies were able to leverage technology to make learning available in the flow of work. For example, a restaurant employee could pick up their phone to view a microlearning session. Minutes later, they can wash their and get right back to work to apply what they learned.
4. Comes with a reputation for excellent customer service and product improvement
Finally, look for learning solution providers that are known to be "customer-obsessed." Your relationship should feel like a true partnership, including having access to leadership.
Companies grow and change over time, and you deserve a learning provider whose success depends upon your own success. They should be there for you as you grow to monitor your needs. And they should improve their product and features to address those needs along the way.
A chat with Subway
Subway, a global business with more than 40,000 locations, spoke with us to share the impact Schoox has had on their organization over the years. Subway's VP of Global L&D and Operating Systems Sunil Sudhakar discusses the successes and lessons learned during their training and development journey as a complex global business.
Watch on demand to learn more: Driving Engagement at Scale: A Fireside Chat with Subway
The latest L&D trends and best practices