Mobile Learning for Frontline Workforces: Why it Matters and How to Get it Right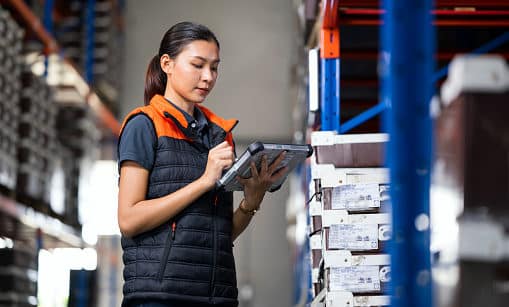 Air. Water. Food. Phone.
These days, mobile connectivity seems to be a prime necessity for most people. We use our mobile phones to do everything—order dinner, watch our favorite movies, manage finances, and keep in touch with friends. Training should be no exception.
As of 2021, the number of unique mobile internet users stood at 4.32 billion; in other words, over 90% of the global population of internet users utilizes a mobile device to get online. And that's not all—these numbers are expected to increase significantly as tech-native generations enter the workforce.
According to research from The Center of Generational Kinetics, there are already more millennials currently working than any other generation, while Gen Z is the fastest growing generation in the workforce all around the world. These generations not only prefer mobile options, they'd rather have entirely mobile experiences. With these digitally savvy employees joining the mix, businesses can no longer afford to put off mobile-first strategies across operations, especially learning and development programs.
What Makes a Great Mobile Learning Experience?
In such a digitally connected world, mobile workers arguably have an even greater need for reliable technology for everything they do—especially training. Here are some hallmarks of a strong mobile learning experience:
Intuitive User Experience: A mobile app is only as good as the experience it provides. For training, businesses should ensure they're choosing a platform that offers an equally smooth experience via mobile.
Accessibility: Learners should have training available at their fingertips in moments of need no matter where they perform their jobs. Within a few taps on their phones, they should be able to access content to help them perform their jobs better right as questions present themselves. They should also have access to important information about their progress, user profiles, course completions, and more when out in the field or on the go.
Microlearning Opportunities: Since people already spend so much time consuming media on their phones, learning through small, bite-sized pieces of content on their smartphones often feels more natural to learners than sitting through hours upon hours of training in-person or on a computer. If training content is delivered in a way that resonates with employees, they're more likely to engage with it—and most importantly, they're more likely to recall the information when it's time to perform their skills in real-time
What Makes the Schoox Mobile App Different?
Not all learning management systems are equal. Some don't offer a mobile app at all, while others charge a premium for it. Here's how Schoox is different:
On-the-Job Training
A major benefit of Schoox is the ability to manage and track all kinds of learning within a single platform, including on-the-job training (sometimes called in-person instruction or observational learning). This enables L&D teams to create hybrid learning programs which incorporate both virtual elements, such as videos or online seminars, as well as in-person training and assessments to ensure knowledge retention. The Schoox mobile app is particularly useful for businesses which need to teach their employees physical skills where work actually happens—whether that's in a kitchen, out at a construction site, or inside a hotel room at a sprawling resort.
Social Collaboration and Gamification Tools
Learners can chat with colleagues, share knowledge with one another, collaborate on group tasks, join private group discussions, and post on the company newsfeed all via the Schoox app. Gamification features like badges, rewards, and leaderboards help foster healthy competition between individuals or teams and encourage continued engagement with learning content. These kinds of features can help foster a greater sense of community and belonging, especially among remote or distributed teams who may not get the chance to connect with colleagues in-person.
Training Program Management
Trainees aren't the only employees on the frontlines—there are plenty of managers there, too. The Schoox mobile app allows managers to manage training, assign coursework and assessments, track in-person instruction, and more—empowering them with everything they need to stay on top of their employees' training in the palm of their hands.
A Powerful Mobile App at No Additional Cost
Regardless of age or technology proficiency levels, the bottom line is that most people prefer using mobile devices over desktop computers. That's why we include the Schoox mobile app at no additional cost, helping businesses ensure all learners have access to training content whenever they need it, through a device they already know how to use.
How Mobile Learning Helped Phillips 66 Lubricants Transform Field Training
For an example of mobile learning in action, consider Phillips 66 Lubricants. As one of the largest finished lubricants suppliers in the U.S., it needed a better way to ensure field marketing and sales representatives have the information they need to sell both its new and existing product lines when out in the field. A team of one at the time, Bill Brown, former Director of Marketing Operations, was looking for an LMS that could help him deliver training materials from corporate to a network of more than 430 distributors in 76 countries, where assigned unit managers can manage training within their own businesses. Most importantly, he had to find a solution that was mobile-ready.
Schoox transformed learning and development at Phillips 66, empowering each part of the company to leverage the LMS to work toward common goals. What was once incomprehensible, password-protected product information in text-heavy powerpoint slides is now a robust library of engaging, bite-sized microlearning opportunities complete with hundreds of courses and content assets—all accessible through whichever mobile device field operators already have on hand.
Want to learn more about how Phillips 66 was able to achieve this stellar mobile learning experience? Check out this case study and others in our report: Real-world Learning for Frontline Workers.
The latest L&D trends and best practices